The Focus Travel Partnership have added a 'Brexit Counter' to their own proprietary Duty of Care solution managed in house by the Partnership under the Focus Innovations banner.
The Brexit Counter pulls GDS and profile data directly from the TMC which shows exactly how many days a traveller has been in the EU in a 180-day window. There are also separate counters for non-Schengen countries such as Cyprus and Bulgaria who have their own 90-day rules.
The visual dashboard which is colour-coded means that corporates and TMCs can easily see if anyone is approaching their limit of 90 days out of 180. The counter can also be added to if a traveller takes a personal trip which needs to be factored into their 90-day limit.
Abby Penston, CEO of the Focus Travel Partnership said 'Over the last two years and during the pandemic, Brexit restrictions and subsequent implications were not publicised as much as anticipated.  However, as travel returns, we need to ensure that our TMCs have the tools available to inform their corporates of any new rules and restrictions. Along with the tracking solution which PinPoint provides, this Brexit counter adds another layer of value for the TMC'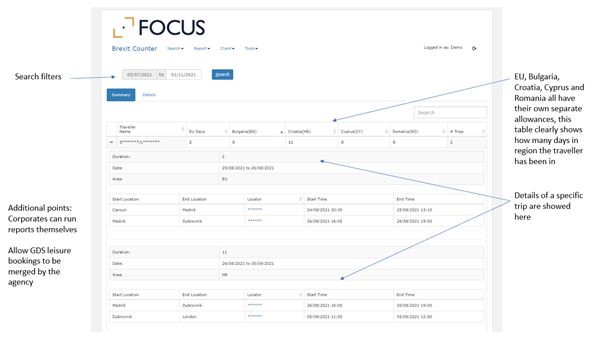 Mark Colley from Sunways Sustainable Business Travel, who was an early adopter of the tool said 'Now that international travel has fully resumed and in-person meetings are back in full-flow, attention has turned toward post-Brexit EU rules for UK citizens. Clearly, for people making regular trips on both business and pleasure, this is difficult to account for – it is for this reason that the Focus Travel Partnership has developed the 'Brexit Counter'. We track all the trips our customers make through our agency and identify when they are likely to exceed the 90/180-day rule. This is further supported with detailed reporting and is yet another vital role that our TMC Partners play in managing the travel for corporate customers.'
PinPoint was launched in July 2020 as a cost-effective duty of care solution for TMCs and their corporates. The Partnership has continuously developed the tool since its inception.