If you type 'Why Millennials' into Google you get this lovely response: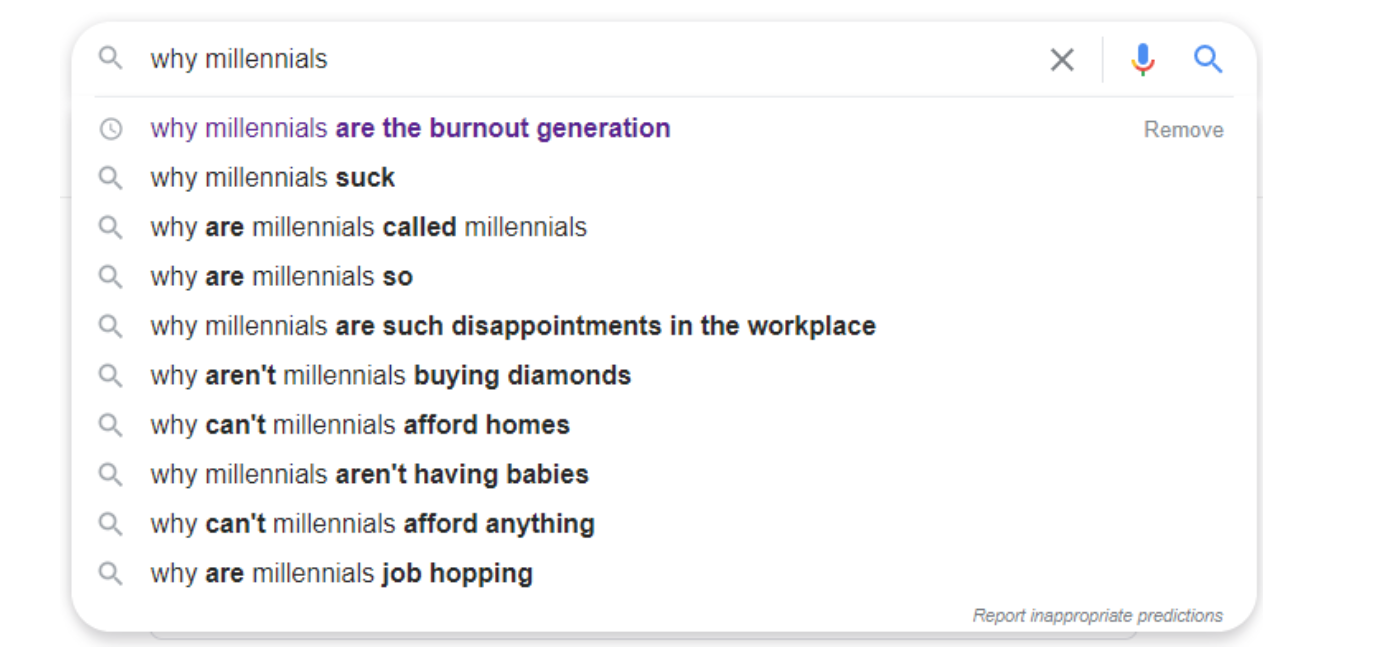 From looking at this you would think millennials are some sort of alien species which shouldn't grace our planet. But first things first, I am a millennial, born right smack bang in the middle in 1990, and some call it living in between two generations. Those before the internet and those who had technology at their fingertips from a very early age.
Why millennials are the burnout generation
Burnout is real.. let me tell you that. Luckily for me I have a leader who recognises that – she knows just before you burn out, tells you so and gives you the time and support to avoid it. Throughout the pandemic, my job role has changed dramatically as has the whole of the travel industry. When you used to say you worked in travel, you used to get a sort of jealous grin followed by 'can you get me a cheap holiday?', right now you simply get 'Oh..' and face of sympathy! But travel is strong – yes we're wounded, and we've had knife after knife stabbed into us, but we will rise again, and the good times will come back.
Why millennials suck
I know I am biased but living in a generation in between the boomers and the Gen Z makes you pretty tough. You have people in their late 50's asking you how to screen shot (this actually happened to me) and then Gen Z who know how to code their way into the future. We live in a fine balance of generations where you have to be adaptable to everyone and it makes you a better person for it.
Why millennials are such disappointments in the work place
I can't speak for every millennial, and I am sure in every generation there are 'disappointments' but millennials know exactly what they want, and they have the ambition to go and get it. Will they stay in the same job out of loyalty for that company? No way – they will move and seek other areas and companies who understand that there is more to life than work.
It is said that millennials say the perks of the job are more important than the salary, and I completely agree but this doesn't mean they won't work hard. Many friends of mine would take a pay cut if it meant they had various perks, and (prior to Covid) one of the main ones was travel. If you got to travel the world, you would happily take a pay cut if you could afford it.
Millennials will be the key ones to return to travel. They still have the appetite to travel, to explore and learn. We are also of that age where we are hitting management level and where these opportunities present themselves, you won't hear them turn it down.
Flexible travel policies will be key for millennials, especially when it comes to budgets. I know some people who will happily fly Economy instead of Business class for 12 hours if it means that they can stay in the best 5-star luxury hotel at their destination, or they might decide to use a budget hotel but fly Business class if they have always wanted to experience this. They may decide to use their budget in the hotel spa after a hard day but have a £3 meal deal for their dinner, working over their laptop and that's okay if it works for them.
Why can't millennials afford houses
I live in London.. I think the least I say on this, the better!
Why can't millennials afford anything
Well, I think this closely ties in with the above – we have gone through the 2008 recession and now through a global pandemic. I believe many people will strategically think about what exactly they spend their money on. If they are not spending in shops, maybe it's because they are saving to take that once-in-a-lifetime trip, or trying to get that deposit to get onto the property ladder?
So why millennials?
We are the next generation of leaders – whether people like it or not, you can't simply skip twenty years, and I am excited to see it. Millennials have thirst for achieving the best they can – they improve with every different job they take and then take those skills to the next company. If you treat them right then they will stay but treat them wrongly and they'll learn what they need to take with them, and move on.