The Focus Travel Partnership have been awarded 'Front of Shirt sponsorship' for Northern Premier League (Premier Division) football team Marine FC. Based in Crosby, near Liverpool, the team will be sporting the new shirt in the new season starting in August 2022.
Marine FC rose to fame last year when they were drawn to play Premier League team Tottenham Hotspur at their home ground The Marine Travel Arena on the 10th January 2021. However Covid restrictions which came into place in the late December meant they weren't able to have supporters at the ground. Marine FC however took to selling virtual tickets, with buyers being in with a chance to win prizes and their name on the wall at the ground. Over 32,000 tickets were sold and the proceeds has given a new lease of life to the club and the ground.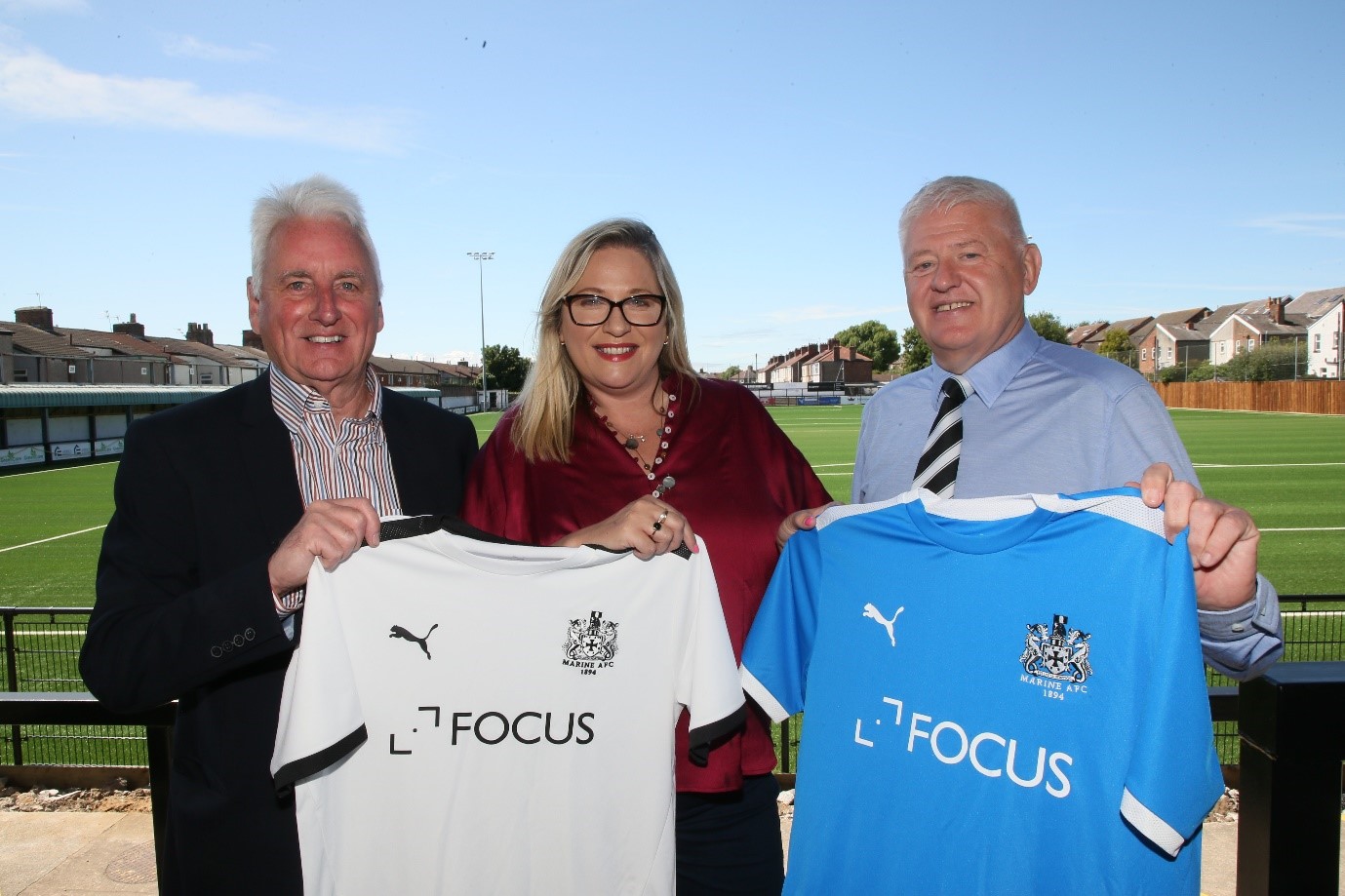 The Focus Travel Partnership is the UK's leading Business Travel Consortium for Travel Management Companies (TMCs) with over 50 members in the Partnership which are all small to medium enterprises. The partnership has a combined turnover of £1billion which allows Focus to negotiate the best deals possible across the business travel landscape.
President of Marine FC, David Thompson, who is also owner of Marine Travel based in Canterbury said 'Focus have been so supportive over the past couple of years, they were an obvious choice for this years Front of Shirt Sponsor. This is a gift for the whole partnership, not just to the head office, but for all the kind support during a particularly difficult past year with my wife Yasemin passing away, and also for the support for Ukraine campaign which is extremely close to my heart'
Abby Penston, CEO of the Focus Travel Partnership said 'We are extremely excited and flattered with this amazing opportunity given to the Partnership. We have worked tirelessly to help our TMCs (Travel Management Companies) and this is such a lovely gift to promote the Partnership and what we do, and shows the true essence of stronger together'
Marine Travel who specialises in maritime travel logistics around the world became involved with the club when founder Dave Thompson and Marine Travel became the clubs shirt sponsor in 2012. Thompson grew up a few streets away from where the club play.
In 2019 'Marine in the Community' was founded which was created to build a strong link between the football club and the local community by providing a space to bring people together with an activities calendar for people of all ages.
Chairman Paul Leary said 'Following the Spurs game we have managed to install a new state of the art 3G quality pro pitch and refurbish the clubrooms which has allowed us to open it up to the community even more. Our Marine in the Community programme aims to improve the lives of local residents by putting on various events from running clubs, yoga, walking football, line dancing and seasonal events such as celebrating the recent Platinum Jubilee.'