When an invite for an Airport tour pops into your inbox in July 2020 you don't turn it down, through our membership with the BTA I was lucky enough to be invited by BA to have a walkthrough of their operations from landside to airside at T5 LHR.
For many reasons I jumped at the opportunity to visit LHR, intrigued as to how both the airport and the airlines are handling the magnitude of the impact of covid-19. Not to mention this was the first business trip in a significant amount of time. It was time to put on my grown-up clothes and get the car ready for a road trip, something that would have been a regular trip 4 months ago almost felt like an adventure now.
Arriving at the airport seemed no different initially, less cars possibly but still the same journey in. Upon entering the terminal with my mask firmly in place the quietness was the first thing that really stood out. It was clearly operational as there were people there, however there wasn't the usual hustle and bustle around the check in desks and departure gates.
It was amazing to see the work that has gone into keeping the airport experience safe without making it invasive. Yes, its abundantly clear that safety measures are in play and enforced but did I in anyway feel it was menacing, absolutely not, if anything it was reassuring!
We were introduced to a robot that is present both landside and airside and is actively looking to track viruses through its UV Lights, once tracked it kills the virus with its UV lights, this same technology is also active on the mechanism of the escalators which in particular it helps to keep the handles virus free: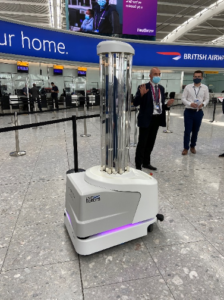 The check in desks have also been adapted to allow for protective measures with screens and there is always distancing guidance to ensure safety: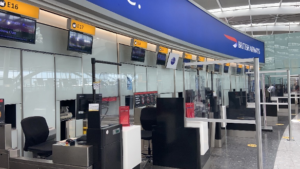 In all honesty I preferred this layout and hope once we are fully on top of this pandemic this model is here to stay, the check-in process felt less intrusive providing a sense of privacy as well as a protective measure.
Temperature screening is now quite noticeable in the airport, with a designated space for passengers to have their temperatures taken if the destination country requires it. As you enter the airport your temperature is being taken, this is currently in the testing stage to assist in any future technology trials in response to Covid-19. As a woman of a certain age and fully accustomed to hot flushes it was a relief to know my reading was average despite feeling hot and bothered.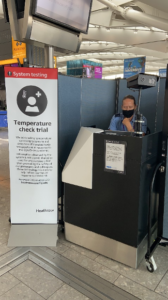 The airport has clearly increased its cleaning measures, this is very apparent wherever you go.  You are never a hop skip and jump away from a member of the team who are constantly cleaning all surfaces, creating a safe environment protecting its passengers from any potential risk from covid-19.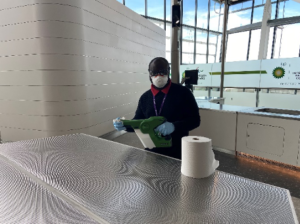 BA have implemented biometric technology throughout the airport check-in processes. This is something they had in the pipeline prior to this pandemic but rolled out in wake of it as a way of reducing contact prior to boarding their aircraft. This innovative way of boarding their passengers would I imagine go a long way to reducing any anxiety during their airport visit.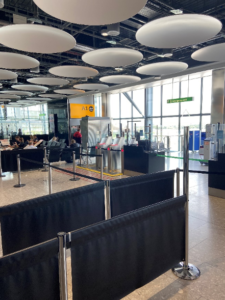 As would be expected, changes have been implemented in the BA lounges to ensure safety whilst maintaining the expected standards passengers have come to appreciate.
Screens have been put up as safety precautions allowing the passengers to remove their masks whilst they enjoy the lounge experience. The buffet style lounge has now been replaced with a table service ensuring that contact is minimized as much as possible. Each table has a QR code that once scanned on your mobile device brings up a menu for you to select from and is then brought straight to your table:
This was an amazing opportunity to see how our Industry is coming together to responsibly get travel moving again. Hats off to LHR and BA not only did I come away impressed with how the airport has adapted to this crisis, but I now cannot wait to get up in the sky again.
In my opinion there is nothing to fear from travelling, as an industry we have come together to responsibly get you from point A to point B. Managed by professionals and in particular an experienced TMC, I believe the duty of care is on point to ensure your safety at all times.
For anybody wanting to learn more about this please contact your Travel Management Company in the first instance and always follow the FCO advise on which destinations have been deemed safe to travel to.
Thank you again to the BTA, BA and LHR for this opportunity to experience the amazing work that has been achieved in getting our corporates safely up in the air again.