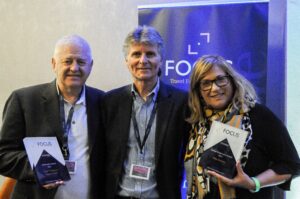 It's been over two weeks since our Revival Conference in Birmingham. We ended the day on a high with a surprise for our CEO Abby Penston who takes away the 'Special Chairman's' Award for 2021. Focus Chairman Adrian Parkes said 'The last 22 months have been unique, difficult, different, and challenging in so many ways and have shaped a very different future for many of us, professionally, socially, and personally. Whenever there is a crisis a calm, professional and level-headed leader is required to help steer a business, an organisation, a team, and a partnership spread widely geographically and only able to meet in a virtual world. It is also in these times that leaders grow, change, shape futures differently and find out more about themselves than ever before.
So as a one-off year, the specials Chairman's Award goes to your CEO, Abby Penston.' 
We also awarded Dave Thompson from Marine Travel our Chairman's award. Marine Travel has been one of the longest serving and dedicated partners. Dave has great engagement with the Focus Central team and truly understands the ethos and culture within the Partnership.
Dave has supported Focus in many ways, he offered to guide us through setting up our own out of hours project (this is something we will be picking back up), he donated a board at the Marine FC football game at the Tottenham match in January this year, he has offered to help many others Partners and actively engages in our Partner Calls. Dave has an active yet calm approach which has been more visible, and much needed, throughout the pandemic. Dave also optimises the 'Inthistogether' spirit and his counsel was much appreciated at Senior Level.  We are delighted to award this to Dave this year and it is thoroughly deserved.