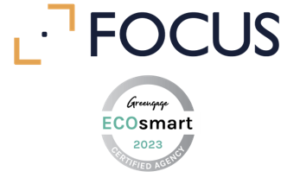 Focus Travel Partnership, the UK's leading travel management consortium, has recently achieved the Greengage ECOsmart accreditation. Greengage ECOsmart is a travel management industry certification that recognises organisations who can demonstrate a comprehensive approach to environmental sustainability within their business and who promote a green approach with their clients.
Greengage operates within guidelines set by the Global Sustainable Tourism Council, the United Nations Sustainable Development Goals framework – and ISO14001. This prestigious certification recognises Focus Travel Partnership's commitment to sustainability and environmental responsibility.
To achieve accreditation, businesses must demonstrate a thorough understanding of sustainability best practices and have a comprehensive policy in place. Focus Travel Partnership has implemented a range of measures to reduce its environmental impact, including:
Reducing paper waste through digital ticketing and invoicing
Encouraging the use of public transport and carpooling for business travel
Implementing energy-efficient technologies in its departments
Using environmentally friendly suppliers wherever possible
Sourcing sustainable materials for events use
"We're delighted to have achieved Greengage ECOsmart accreditation," said Dani Ives, Partnership Project Manager for Focus Travel Partnership. "Sustainability is a key goal, and we're committed to minimising our impact on the environment. This certification acknowledges our achievements and inspires us to continue to find new and innovative ways to reduce our footprint and promote sustainability. We are committed to business practices based on principles that will protect the planet and our future. Focus will continue to collaborate with and support our partners to achieve the same sustainability goals."
"Congratulations to Focus Travel Partnership for demonstrating a clear commitment to sustainability by gaining ECOsmart certification" said Andrew Perrolls, CEO of Greengage ECOsmart. "Through this process Focus has implemented business practices that help protect the planet, and it's great to see how this extends to supporting partners on their sustainability journey. As part of their carbon reduction planning, Focus are now carbon neutral in their operations."
Focus Travel Partnership joins the growing number of businesses that are recognising the importance of sustainability and taking steps to address climate change now. Focus Travel Partnership are leaders in their industry and are well-placed to drive change and promote sustainable practices throughout the business travel sector.