The Focus Travel Partnership has strong relationships with our preferred airline suppliers and throughout the Covid-19 pandemic have been ensuring that all relevant information about policies and programmes are communicated to our Partners via a variety of channels including our digital community (our Partner Extranet), videos, training and blogs. 
Below we ask Kevin Young, Senior Account Manager from the Lufthansa Group about their challenges as well as their developing programmes to work closer with Focus TMC Partners and their customers.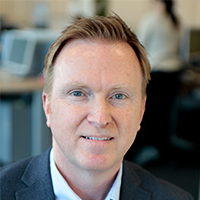 Q: Pre-Covid-19, global travel was pretty much seen as a 'normal' activity – good choice of airlines covering multiple routes, affordable fares and few unachievable restrictions on entry to countries from a visa or health perspective.  How do you believe the new landscape of air travel will look in the next two to three years?                           
I believe we have already entered in to the 'new normal' of air travel. The Lufthansa Group puts the safety and well-being of customers at its highest priority. All airlines of the Lufthansa Group – Austrian Airlines, Brussels Airlines, Eurowings, Lufthansa and SWISS state that it is an obligation to wear a face mask during the whole journey.  As of 1st September 2020, only passengers with a medical certificate in conjunction with a current negative PCR test result (within 48 hours of the start of travel) can take off the mask during a flight.
Restrictions on travel are a massive barrier to the economy. It is therefore necessary for the Lufthansa Group to define framework conditions for adjusting travel restrictions and to find regulations that allow health protection and economic, but also private, exchange across borders.
In this context, binding negative COVID-19 tests prior to departure could be one element, in addition to measures for health protection that apply in principle, to allow bilateral exceptions to the entry ban. We are working with partners in the USA on transatlantic pilot routes in order to gain experience for our customers, for us in the use of rapid tests and for travel under Coronavirus prevention measures.
The Lufthansa Group are constantly in contact with various pharmaceutical companies to keep ourselves informed about the development of corona tests. In the coming weeks we plan to purchase batches of so-called rapid tests and offer them to our customers. Testing for Coronavirus remains the best way to contain the pandemic.
Creating physical distancing measures at all airport areas is very important to the Lufthansa Group. From floor markings, retractable safety barriers, displays, sneeze guards etc, to boarding the aircraft by groups after the pre-boarding phase – eg by window seats, followed by middle seats and then aisle seats. Deboarding the aircraft is also carried out by zones.
Q: As planes were grounded and customers had to change their plans due to the restrictions imposed by each country's governments, Lufthansa Group went into survival model – what do you believe the key lessons learned by the group are and how do you think the Lufthansa Group sat in comparison to other airlines (eg policies and communications)
From the outset it was paramount that the Lufthansa Group offered its customers flexible rebooking and refund conditions, given that approximately 95% of its entire route network was grounded. Due to the ever changing landscape, it was important that I sent update communications of policies, network changes etc to the Focus team for central distribution, however our main source of communication to all travel trade partners is via our agency site – Lufthansa eXperts.  On this platform our trade partners could gain the most up to date information concerning refund and change polices and receive our News alerts.
Not only did Lufthansa Group airlines offer its customers flexible rebooking and refund conditions, we also offered our trade partners a small payment incentive when ' Rebooking 'rather than applying for a refund. The feedback received from trade partners across the UK and IE was extremely positive in connection to our consistent updates and flexibility.
Up until the end of September, the Lufthansa Group had processed EUR3 billion in ticket refunds.   
Q: The Lufthansa Group has also been a favourite of many corporate customers – both long and short-haul.  How are you looking at encouraging these travellers back onto your aircrafts in the short and longer term and what corporate programmes might benefit them?
Offering customers reassurance with greater flexibility is so important. Therefore we recently announced that all Austrian Airlines, Brussels Airlines, Lufthansa, SWISS and Air Dolomiti tickets issued between 25 August and 31 December 2020 can be rebooked as often as necessary and without a change fee. * For additional flexibility, the origin and destination of the journey can also be changed. ** Any fare difference may have to be charged and all fare conditions must be adhered to when rebooking/reissuing tickets. ( * With the exception of bookings with point of commencement in Japan** Exception: German domestic tickets may not be changed into international tickets and vice-versa )
We have also announced to our PartnerPlusBenefit customers (the corporate reward programme for SME customers) that all BenefitPoints will not expire until further notice.  This gives greater reassurance that during these times they will not lose out on any rewards.
For our frequent flyer members, we have announced that we will extend the Miles&More status by one year to February 2022, if the status card member does renew your status in 2019 or 2020. Should any customer renew their status by the end of 2020, they will naturally get their usual renewal until February 2023. Plus any eVouchers with expiry dates in 2020 and 2021 will be extended or re-credited and can be used until 31 December 2021.
Q: The use of a TMC will be even more important to customers in the future as they will need much more information about country entry requirements, hygiene standards, traveller tracking and risk management as well as a choice of air fares that may include more flexibility.  How are the Lufthansa Group developing their information channels and fare products in order to assist the TMCs in selling seats on your airlines?
The Lufthansa Group has introduced a newly established microsite which provides a good overview what the entry conditions and rules per county are. As we all know rules and regulations change at short notice, so having a source of information for travellers is essential.  Information from LH.com for example can be found here – https://lufthansa.travel-regulations.com/language=en&apptarget=external       
The Lufthansa Group airlines, Austrian, Lufthansa and SWISS now offer Corporate Value Fares for continental O&Ds and offer attractive corporate bundles. The existing published brands will be enhanced with attractive additional features for corporate customers according to their travel needs and travel policies. Carbon offsetting will be offered as standard on flights operated by Austrian, Lufthansa and SWISS. Additional features such percentage discount off the fare (valid for a period of time only), FlyNet® vouchers, reduced change fees, free refunds plus more are available depending on the fare brand paid. 
In these difficult times, we see an increasing demand from customers for consultation before they travel, Lufthansa Group travel partners like Focus Travel Partnership play an important part in that discussion. By participating in our NDC Partner Program, Focus Travel for instance can make sure to benefit from the same content that is available in our direct channels, such as LH.com. With more than 4 years of collaboration with travel partners in the field of distribution, we have over 100 UK TMCs and travel agents able to access exclusive content through our NDC API, through certified tech providers or through Lufthansa SPRK. The importance of our NDC Partner Program is now probably greater than ever before.
NDC already provides a direct, dynamic, flexible and modern data standard. Through the Lufthansa Group airlines' NDC API, our partners can access exclusive offers (NDC Smart Offer). In this way, we always enable the appropriate solution – tailored to the requirements of the agencies business.
Lufthansa Group airlines will implement continuous pricing on our European routes from the 20th October '20, allowing connected travel partners to book an almost unlimited amount of price points.
Q: The whole corporate travel industry globally wants to see the skies opening up again, aircraft flying, travellers booking again and see a mutual recovery of business (corporates, airlines, TMCs, hotels etc).  What are your personal thoughts on how the world can recover together and what are the key opportunities for recovery to start happening?
The last 7 months have been the hardest period in our living memory, and I believe we have a long road ahead of ourselves. No matter what you think of our Governments policies and general handling of this pandemic, we must follow the basic rules. This is the only way I believe we can return to some kind of normal.
I believe the airline industry as a whole has worked extremely hard to gain customer confidence. Certainly the Lufthansa Group has implemented so many measures to reassure customers that flying is safe during the times of Coronavirus. From creating physical distancing on the ground and on board, to the use of HEPA air circulation system that removes dust, bacterial contamination & viruses.   We need to start seeing airport testing ( rapid testing ) and reduce the list of countries where a 14 Day period of self-isolation is required.
Q: You were recently on furlough for a number of months – how did you feel about the government introduction of this support and how did you feel personally about your own furlough experience?
I personally feel that the governments introduction of the furlough scheme in April was well received and came at the right time. From a Lufthansa perspective we furloughed all staff apart from a small core team and this continues to be the same until the scheme finishes at the end of October.
I was furloughed for 3 months from the beginning of June and of course was pleased to do my part in the cost savings for the company. The first 3 weeks felt like a nice holiday, allowing me to complete a list of DIY jobs and of course enjoy the great weather we had over the summer months.  However this soon changed to an overwhelming feeling of frustration of not being at work. I have worked from the day I left school and not being part of a team or having a true sense of purpose for the day ahead started to wear pretty thin very quickly. A saving grace would be our weekly dial-in Teams call with our Sales Director where the whole of the UK & IE team would receive an update from a Head Quarter and local level. Receiving that call to return to back to work was well received!